About Chris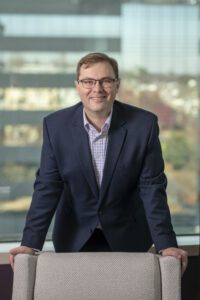 Chris realizes that estate planning is the easiest thing in the world to put off, and that's why he's committed to making the process comfortable, easy, and accessible. Whether it's making sure the right people are in charge of caring for your children, drafting trusts for special needs beneficiaries, engaging in complex estate tax planning, or crafting documents to account for any number of unique circumstances, Chris has worked with thousands of Maryland individuals and families to put together the right plan for them.
Chris focuses his practice on estate planning to help his clients prepare for the unexpected, and estate administration, to help make sure a loved one's wishes are carried out. Prior to joining the firm, Chris spent six years at a boutique estates and trusts firm in Baltimore County.
A long-time resident of Howard County, Chris is proud to serve his community. He spends as much of his free time as he can with his wife and three young boys. Chris enjoys cooking for his family and spending time with friends.
Practice Groups
Areas of Focus
Schooling
University of Maryland, College Park, B.A.
University of Maryland Francis King Carey School of Law, J.D.
Bar Admission
Awards
Super Lawyers Rising Star for 2022
Pizza… I may still be a teenage boy at heart
If you ask my kids, my constant dad jokes
Semi-Charmed Life by Third Eye Blind
I try olives every few years, just to make sure they're still disgusting
Before law school, I was a planned giving fundraiser for the University of Maryland. I loved my time there – in fact, it sparked my interest in estate planning. If I wasn't a lawyer, I would probably be working in the nonprofit space trying to council donors on different giving strategies.
My children are my proudest accomplishment. My wife and I are raising three amazing young boys.
The phrase "very unique" – "unique" means one of a kind!
In summer camp in middle school, someone told me I looked like Luciano Pavarotti. I still don't know what to make of that…
While I had a handful of summer and short-term jobs growing up, my first "real' job was front desk at a hotel in D.C. I took that job while I was finishing up my B.A. at UMD, and I probably learned as much there as I did from my courseload my senior year. As a bonus, I learned how to operate the last remaining manual elevator in DC (it had its ups and downs)!
Community Foundation of Howard County

Member, Board of Trustees (2023 – Present)