About Robert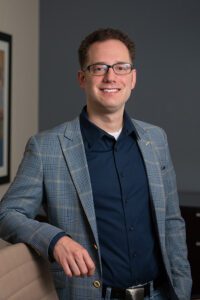 Robert is an attorney in the firm's Family Litigation practice group. His practice includes a broad range of litigation matters, with a focus on divorce and separation, child custody and support, alimony and spousal support, and adoptions and guardianships. Robert has worked with families and especially children since he began practicing law, and finds being a voice for those who find themselves in difficult legal situations rewarding and a privilege.
Before joining the Firm, Robert worked as a staff attorney at Children's Legal Services of Baltimore, where he represented children in Baltimore City who found themselves in the foster care system. His work specifically revolved around children who were respondents in Child(ren) In Need of Assistance matters (CINA), Termination of Parental Rights proceedings, and any appeals that stemmed from those issues. Robert was able to move into the field of CINA work after clerking on the Circuit Court for Baltimore City, where the Honorable Judge Cynthia H. Jones sat on the juvenile docket.
While in law school, Robert was the Managing Editor on the University of Baltimore Journal for International Law, where managed the entire editing staff and all work published by the journal. Additionally, Robert was the President of OUT Law, helping advocate for all LGBTQ+ students on campus. During his time in Law School, Robert also worked as a Student Attorney in Immigrant Rights Clinic, where he successfully represented two children in their asylum claim. As someone who likes to a full schedule, Robert also worked as a law clerk for the American Federation of Government Employees.
In his free time, Robert enjoys quality time with his friends and family, especially being the fun uncle to his two nephews and his one niece.
Practice Groups
Areas of Focus
Community Involvement
Court of Appeals of Maryland
Schooling
University at Buffalo – SUNY, B.A. in Linguistics, Cognition and Language Acquisition
University of Baltimore School of Law, J.D.