About Hugh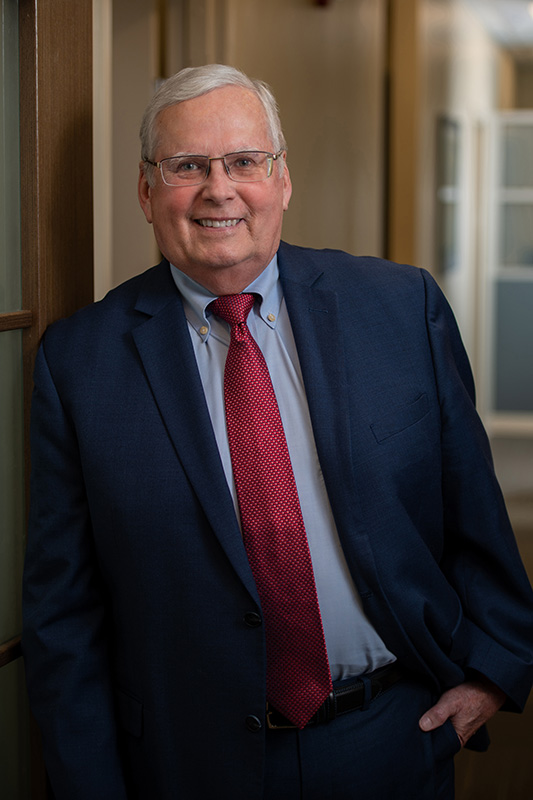 Hugh began his legal career as an associate attorney with the civil litigation firm of Welch, Murphy & Welch in 1984. He founded the law firm of Hugh W. Farrell & Associates in May of 1991, which became Farrell & Gunderson in 2007. The firm focused on business law, employment law, and health care law. Hugh and his team joined Davis, Agnor, Rapaport & Skalny, LLC in 2018.
Hugh concentrates his practice in civil litigation and, in particular, in the defense of security services, medical malpractice cases, insurance defense and defense of employment wrongful termination claims. He possesses extensive experience in the areas of general negligence, business torts, employment wrongful termination claims, employment discrimination claims, institutional security claims, workers' compensation claims, municipal liability claims, premises liability claims, insurance coverage declaratory judgment actions, and products liability.
In addition to representing health care facilities in defense of medical negligence and other litigation matters, Hugh assists facilities in compliance matters, including HIPAA issues, defending health care providers in complaints filed with licensing boards and with other federal and state agencies.
Supporting the various communities in which he lives and works is extremely important to Hugh. He has served as a court appointed mediator in the Multi-Door Dispute Resolution Division of the Superior Court for the District of Columbia.  Hugh is also a trained facilitator by the Alternative Dispute Resolution (ADR) Committee of the Howard County Bar Association and volunteers his time to mediate cases before the District and Circuit Courts of Maryland.
In his spare time, Hugh enjoys playing golf. He and his wife enjoy spending weekends with family and friends.
Practice Groups
Areas of Focus
Community Involvement
Governor Run Homeowner Association, President of the Board of Directors
Howard County District Court, Volunteer Facilitator
Howard County, Carroll County, and Montgomery County Circuit Courts, Court Mediator
Maryland Program for Mediator Excellence, Member
D.C. Defense Lawyer's Association, Active member and  CLE presenter
Mt. St. Mary's Seminary Rector's Council, Past member
Defense Lawyers Research Institute, Member
Governors Run Homeowners Association, Board of Directors
Membership in Professional Organizations
The Maryland Program for Mediator Excellence
American Board of Trial Advocates
The Defense Research Institute
Bar Associations for Howard and Anne Arundel County, Maryland
The District of Columbia Defense Lawyers Association
The Maryland, Virginia and District of Columbia Bar Associations
Schooling
Mount Saint Mary's University, B.A.
University of Baltimore Law School,  J.D.
Bar Admission
Maryland
District of Columbia
Virginia
Training
Baltimore Mediation Training, Basic Mediation and Conflict Transformation Skills, 2018
Harvard Negotiation Advanced Mediation Workshop; Mediating Complex Disputes,  2019
Awards
District of Columbia Defense Lawyers Association – Lawyer of the Year (2010)
Washingtonian Magazine – Best Lawyers in Washington, D. C. (2007 -2019)

Take up the sport of golf with lessons when a teenager. It is so difficult to learn when you begin at age 50. It would have been much easier to learn when you are 18.
Age 35. At that age you are still young and full of strength, but you have had enough life experience to make wise decisions.
Days of Future Passed by The Moody Blues.